Snow Day
To the person who found my blog by googling "how to throw sperm higher"…I am so sorry.  You were probably in a great mood, tossing your sperm around, hoping to perhaps make it an Olympic event, looking for that technique that would get it even higher in the air.  And instead of finding directions on how to flick your penis to get the sperm directly onto your ceiling, you were confronted with tales from my Uterus of Doom.  Sperm go in there never to be seen or heard from again.
I'm not sure how I ended up being the #1 ranked site on Google for that phrase.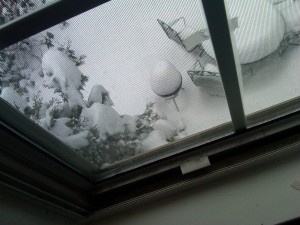 Today is a snow day.  It started last night; huge, soft flakes that are piling up on the trees and bushes.  I have to go downstairs to start the soup in a few hours.  Butternut squash soup with homemade breadsticks and a salad.  Snow food.
They are saying that this storm will be as bad as the one that hit the East Coast in 2003.  I was stuck in Detroit for several days at my friend's apartment because I couldn't get a flight back.  It was right when we were starting treatments and I finished up a cycle while I was there.  I randomly bumped into a person I knew from college who was my age and already had three children.  The next day, my friend had to go to work and I spent the day deep in grief, watching old episodes of ER and organizing my friend's linen closet.  I vacuumed every crevice of her apartment and then took apart the vacuum and cleaned out every piece.  That's how I spent the last huge snow storm.
I'm not really good with being snowed in, but if I had to be snowed in somewhere, her apartment was a good place.  It would also be nice to be snowed in with my siblings or one of my sister-cousins.  And entering into an idealized space, I think it could be quite nice to be snowed in with Jon Stewart.  He'd probably be very amusing and narrate our games of Mah Jongg.  And it could be fun to be snowed in with the Beatles (er…pretending the Beatles are all still alive) and have them sing to us as well as join us in our daily meditation time.  And being snowed in with Alton Brown would be delicious because he'd not only help us cook really interesting things based on what we have in our pantry, but he'd also probably give us all these really interesting tidbits of information with the recipes.  Plus, he could clean out our kitchen utensil drawer.  Oh, and the Mythbuster guys because they'd probably be handy to have around if we lost power.
On the other hand, it is sort of a nightmare of mine to be snowed in with Brad Pitt.  Or Paris Hilton.  I would also probably weep openly if we ended up with a stranded entomologist if he was carrying any bugs with him (I once lived with an entomologist, but she never brought home any work so it was okay.  Plus, she decorated our apartment with bead curtains which sort of canceled out the fact that she touched crickets all day).
Who are your ideal snow-in compatriots–either people you know or people you imagine would be good people to be stuck with in a storm (or come up with a list of both and why)–and who would be a snowed-in nightmare?