Ungaming and Comment Chaining Part 3
Directions: answer the question in the comment section.  Then leave a comment on the blog of the commenter directly before you (so it's a chain.  #2 comments on #1, #3 comments on #2, etc.  If the commenter above you didn't leave an address, just go one above that.  The point is to find new blogs/leave a comment–not stress).  The first person who comments gets a free ride and does not need to leave any comments.  The last person who comments gets…screwed.  My answer below the picture.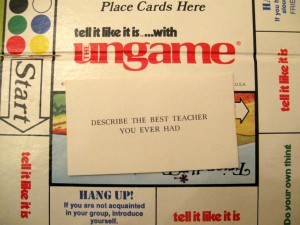 In case you can't read it, the card states: DESCRIBE THE BEST TEACHER YOU EVER HAD.
My answer (because if I put it in the comments below, I'd mess up the chain): this was really hard because I kept juggling different choices.  Do I go with my high school physics teacher who was so great that I still remembered the formulas today?  Or my mentor from grad school?  Or my kindergarten teacher (I can tell you who isn't on my list: my bitch nursery school teacher who didn't let me sit next to the boy I had a crush on for the last Shabbat and instead sat me next to the boy with poison oak)?  I'm going to go with two because…hey…it's the Ungame and anything goes.
#1: my college professor, Ron Kuka, who gave me coffee if I swung by his office in the winter before I walked up the hill, who was such an incredible writer himself that he made me fall in love with the short story, and who brought out the best in me as a student.  I can never thank him enough for all that he taught me about writing and the road he set me on.
#2: The story behind these words is too hard for me to write about, but I once had a professor–a woman–tell me that I had to get a thicker skin and essentially unlearn everything I knew about being a nice girl.  That I needed to stop being meek and grab the world by the cock and kick it in the balls for good measure.  She told me that there would always be people in the world who would try to bring me down and I had two choices, to kick them in the figurative balls or to drop out of everything and have nothing to show for my life in the end.  And while she may sound like a big bitch from this tough love talk, she inspired me to stick up for myself, to take what I rightfully earn, and to work my ass off.  And while she really wanted me to unlearn the nice girl, instead, I kept nice Melissa around and tempered her with the ability to deliver a few knee thrusts to the proverbial groin, but only when she really really needs to do so.