How I Ended Up in the Back of a Stretch Limo
I was standing on the street corner, trying to juggle my cell phone, purse, and shopping bag when a stretch limousine stopped beside me at a traffic light.  The back window rolled down and I shit you not, Brad Pitt stuck his head out the window and said, "Mel."
I know.
So I looked around as if there was someone else nearby and he laughed and said, "Hey Stirrup Queen, hop in."
And even though my mother is going to kill me for getting in a car with a stranger, I got into Brad Pitt's stretch limo.  My heart was pounding so quickly that I couldn't even hear what he was saying, something about finding the site, and IVF, and recognizing me from the BlogHer video.  It was the most surreal moment I've had in my life.
Okay, that didn't actually happen.
But I did end up in the back of a stretch limo this evening.
A few months ago, right before BlogHer, I was contacted by this very cool documentary maker who wanted to pick my brain about a four part television program she wanted to make for PBS examining the health issues for women from birth (really the teen years) to death (more like your 80s).  And I absolutely loved her and wanted to be part of this project so badly.  Except it was in Chicago.  And I live in DC.
A few weeks ago, she wrote and asked if I wanted her to fly me out to Chicago to be part of this series and while I wanted to very badly there were two issues: (1) I have been a class-A freak lately about traveling on my own and the thought scared the bejebus out of me and (2) I had a reading in Detroit the same weekend.  Alexandra (the producer) told me that she could film my part on Friday and I'd still be in Detroit on Saturday as planned.  So three legs of a plane ticket were purchased, bags were packed, and I flew to Chicago this morning.
Except reality was that I cried in the car as Josh drove me to the airport.  I cried going through security.  I cried when I got to the hotel for a very long time.  I left multiple phone messages of myself crying for Josh at work while he tried to draft a document.  I cried in the shower.  I cried whenever I encountered someone in the hotel who asked me how I was.  I cried.  Did you get that part that I cried a lot?  And I emailed my friend, Julie, while I cried and she tried to give me advice and I told her the only thing I had energy to do was cry and bother her.
At 3:30, I went downstairs and met up with a nice woman who was going to the same filming and we shared a car service.  She told me her name was Ariel and we chatted about kids and the PBS series and such and I finally thought to ask her last name and she said Gore.  I was in a freakin' car service with Ariel Gore.  As in, the woman whose book is on my "read soon" list.  I would have peed myself, but I had used up all of my body fluids on tears earlier in the day.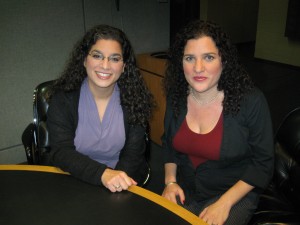 Just me, hanging out with Ariel Gore.  Not crying.  With a lot of makeup on my face.
So I got to PBS and met others in the conference rooms where we were hanging out.  Kathleen Puls Andrade was there and Dina Bair.  And a fertility doctor and an oncofertility specialist and psychiatrist and lots of cool people.  Then I was brought downstairs to makeup where the makeup artist covered up the fact that I had been crying all afternoon and put more makeup on my face than has ever been on it before.  She was like a magician.
As I waited around to tape my segment, I snapped pictures.  Then they asked me to stop snapping pictures unless I could turn the sound off my camera.  And I couldn't.  So I stopped snapping pictures.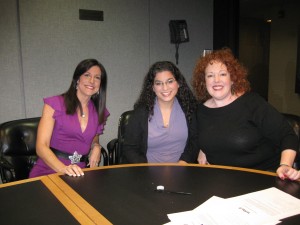 Dina, Me, and Kathleen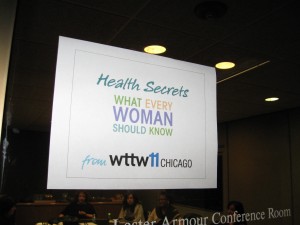 The conference room door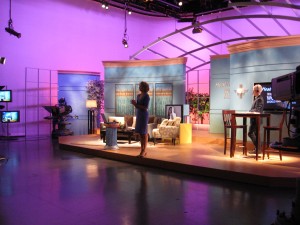 Paula Zahn, standing on the set, talking to the audience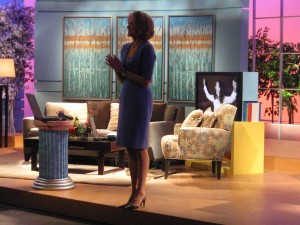 More of Paula before they asked me to put the camera away because it was noisy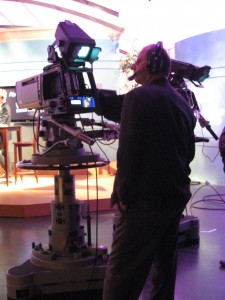 Random cameraman
So it's my turn to go onstage and I go up with a fertility doctor from Northwestern.  And Paula Zahn (oh yeah, I forgot to mention that the whole series is being hosted by Paula Zahn formally from CNN) asks fabulous questions and we answer them.  She wants to know about the emotional side of infertility and I TELL HER ABOUT OUR BLOGROLL AND ALL OF YOU AND IT'S GOING TO BE ON THE AIR, OUR BLOGROLL IS GOING TO BE ON THE AIR (that's a hint to please not cut that part).
After my interview was done, I moved into the audience for the next segment on balancing work and home.  And I stayed until 8ish.  Afterward, people were going for drinks, but I hadn't eaten because I was too busy crying in the afternoon and I also wanted to call Josh and talk to him so I said I was going back to the hotel.  Before I left, I took some pictures with Paula and the producer, Alexandra, who was the whole reason I wanted to be involved in this project in the first place because she is amazingly brilliant.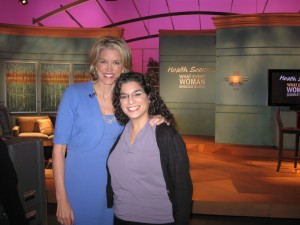 Oh look, Paula got herself a brand-new olive-skinned child.  Oh wait…no…that's me.  I'm 35 years old and she can rest her cheek on the top of my head.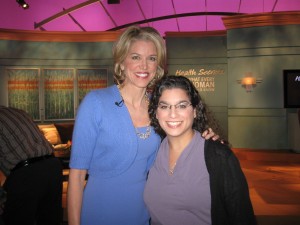 Just me and Paula.  Paula Zahn is so warm and clever and funny and immediately puts you at ease.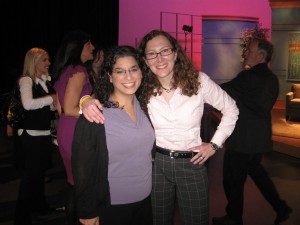 The incredibly brilliant Alexandra
After I said goodbye, I went outside to meet the car service and the driver, Tosin, told me that we had to drive back in an enormous white stretch limo because of a mix-up with the other car.  So instead of a normal sedan, I got into a stretch limo with full bar–the kind with the wrap around seat that people have sex on in the movies.  And I totally cracked up because honestly, my life is about sitting on the floor outside ballet class and baking brownies and playing Legos.  But here I was, miles from home, in downtown Chicago in a white stretch limo wearing (and my mother will kill me for this one) my grey LL Bean pull over fleece jacket over my nice clothes because I didn't have the strength to shlep my black dress coat with me to Chicago.
I took out the camera to take a few pictures for the Wolvog.  I couldn't believe I was in a limo and he wasn't there with me to enjoy it.  Tosin calls back, "was that a flash?  Are you taking pictures, Melissa Ford?"
And I explained that I wasn't going to be embarrassed about it.  I was taking pictures.  I wanted the Wolvog to see it and to prove that I had been in a stretch limo that night.  Because literally, I'm 35 years old and I've never been in one.  I had an opportunity once at a funeral, but I turned it down because I didn't want my first time to be tied to something sad.  And I didn't want one for our wedding, didn't want one for prom.  But I couldn't stop laughing that I was in Chicago, coming back to the hotel from a television filming, in a stretch limousine.  This just wasn't my life.  But what a great story for popping my limousine cherry.
Tosin told me to hand him the camera and he pulled over by the hotel.  And he took these: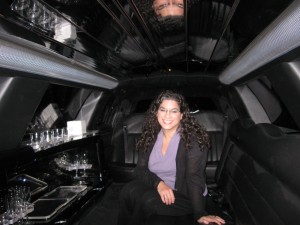 Check out the stocked bar…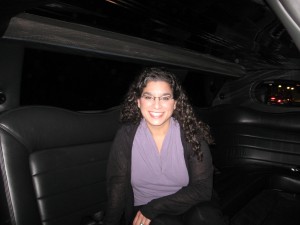 I went looking for some food and finally gave up because all of the nearby restaurants were closed.  Tosin must have gone into the hotel and set this up, but when I stepped into the lobby, the men at the desk all whistled and called out, "That's Melissa Ford!  I can't believe it's Melissa Ford."
A nice ending to a very surreal night.
Tomorrow, I fly to Detroit, to my best friend and a reading.  I was going to say no to this opportunity in Chicago because I was so terrified to travel.  I didn't want to be alone so far away from home.  And I'm glad that I did this, regardless of how hard it was emotionally to come here.  Because it really was a very cool day.  Though I'm glad my real life is ballet classes, brownie-baking, and Legos because my face could not handle makeup like that all the time.
When I have more information about air-dates and video clips, I'll put them up.