At This Exact Moment in Time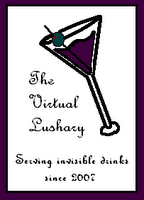 I have been having wonderful luck lately with meeting other bloggers.  Last week, it was Serenity and Somewhat Ordinary.  This week, it was Baby Shmaybe, To Baby and Beyond, and Palemother.
Last weekend, I was in Detroit doing a book reading.  What?  You don't have a copy of Navigating the Land of If?  Well, you should remedy that and get yourself one.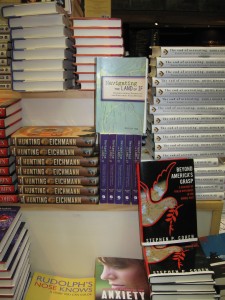 First I met, Baby Shmaybe, who shall not be pictured as per her request, but she is simply lovely.
Then, Palemother came up after the reading which made me emotional because I didn't know she would be there.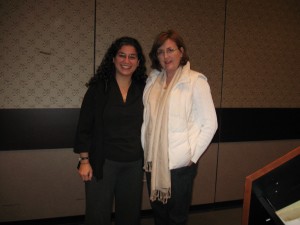 And then, I met To Baby and Beyond, who came with her sister, which was all kinds of cool.  And I'm so glad that I got to give her a big hug.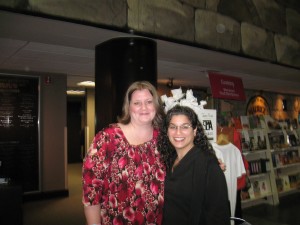 I am so incredibly lucky that I get to meet bloggers that I read face-to-face.
After the reading, I sat in the lobby for a bit and signed books.  Which, you know, makes a lovely present and is the perfect answer for all those pesky holiday questions about family building.  When they ask, just hand them a copy of the book.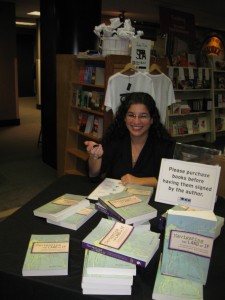 If you could meet any blogger in this exact moment in time, who would you want to meet.  Meaning, not the blogger you most want to meet overall, but scrolling down your mental blogroll for a moment, who would be the best person to fit your mood in this moment.  You know how at different times, you're in the mood for different people?  So, this exact second, who would it be with the understanding that ten minutes from now, it might be a different person.
I think, in this exact moment in time, I would want to be sitting cross-legged on top of a blanket with Vee at the beach.  Maybe in the late afternoon.  With a thermos of milky tea.  And a chocolate bar.  I've always wanted to see Australia, and I think a talk would be good.  If Bea and Eden could join us, all the better.
So I'm pouring drinks while you think about that question and catch us up on your life.
As always, it has been about a month since we met, bitched, cried, comforted, and caught up each other on our cycles and lives. Pull up a seat and I'll pour you a drink. Let everyone know what is happening in your life. The good, the bad, the ugly. My only request is that if a story catches your eye, you follow it back to the person's blog and start reading their posts. Give some love, give some support, or laugh with someone until your drink comes out of your nose.
I have a ton of assvice in my back pocket and as a virtual bartender, I will give it to you unless you specifically tell me that this is simply a vent and you do not want to receive anything more than a hug.
So if you have been a lurker for a while (or if this is your first open bar as someone who found this space through IComLeavWe), sit down and tell us about yourself. Remember to provide a link or a way for people to continue reading your story (or if you don't have a blog–gasp!–you can always leave an email address if you're looking for advice or support. If not, people can leave messages for that person here in the comments section too). If you're a regular at the bar, I'll get out your engraved martini glass while you make yourself comfortable. And anyone new, welcome. I'm glad you found this virtual bar.
For those who have no clue what I'm talking about when I say that the bar is open, click here to catch up and then jump into the conversation back on this current post.
So have an imaginary cocktail and tell us what is up with your life.