164th Friday Blog Roundup
Jeanne Claude, Christo's wife, died this week.  She was only 74.  They were still working on the same project I heard them speaking about back in 1995–fabric panels over a river in Colorado.
I broke up with my boyfriend at the time over Christo and Jeanne Claude.  There had been a limited number of tickets given out to art students to meet them at a reception after the talk and I got one of these tickets.  My boyfriend at the time was in Mexico and we had a standing weekly phone call date because there was only one telephone in the town.  He would stand in the general store at the designated time and I would call and butcher my way through two minutes of speaking Spanish with the store owner.  There was no other way to reach him–the phone was an hour walk from where he lived and no one was going to fetch him for me.
The talk started late, which pushed the reception late, which meant that I had to leave before the end of the talk to get back to my apartment in time.  I cried the entire walk home, so incredibly frustrated because I wanted to meet them so badly.  At the designated time, I made the phone call and spoke to the store owner.  Except, as it sometimes happened, my boyfriend wasn't there because he was hanging out with some friends.  The reason is that he cared only about himself because he was a self-centered little shit with a heart the size of a rancid sesame seed.  Not that I'm still bitter or anything.
Maybe 45 minutes later, I got a collect call from him telling me to try him again at the store, but missing meeting Christo and Jeanne Claude was the straw that broke the camel's back.  We broke up that night over the phone and again and again for the next 10 months.  I am not the best person with break-ups.
*******
I told Magpie how much the ChickieNob loves Gillian Murphy and Angel Corella and she was able to get her three stills from a performance of Swan Lake.  I brought the envelope to school when I went to pick her up.  I wish I had filmed the look on her face when she first saw the pictures.  It was as if she had found a fairy in her cereal box.  Her mouth dropped open and time stood still, and then her whole face exploded with happiness and she ran through the hallway shrieking, "this is Gillian Murrrrrrrrrrrphyyyyyyyyy!"
It is pretty cool to see someone find their passion and it has only gotten more intense as the months have passed.  When she is not listening to the music from classical ballets or looking at old ballet programs or sitting at the kitchen table drawing scenes from various ballets, she is either dancing in the living room or in front of the mirror upstairs or at the ballet studio.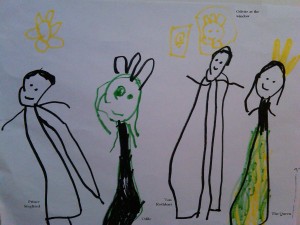 Prince Siegfried learning of Odile's deception from Swan Lake (from L to R: a pensive Prince Siegfried, an enormous-eyed Odile, a chipper-looking Von Rothbart, and an inexplicably-happy Queen)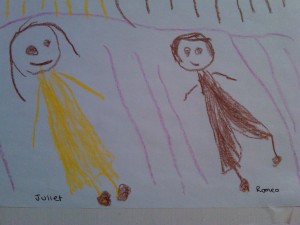 Alessandra Ferri and Angel Corella dancing Romeo and Juliet and defying gravity with a far-left lean.
The ballet slippers this week were because the ChickieNob told her teacher that her happiest time is when we're dancing in the living room.  Yes, I do pretend ballet in my overalls.  And I'll never film this because we went to a ballet studio with my shoes this week and when I saw myself gallumpfing in the mirror, I realized that it simply doesn't make a lovely visual.  I did not inherit gracefulness.  But we have fun calling out the story to each over the music.
And because the ChickieNob gets to direct, poor Wolvog is always stuck playing random townsperson #7.
*******
The Weekly What If: what if you could only eat one genre of food for the rest of your life, what would it be?  As in, Japanese, Thai, El Salvadorian, Ethiopian, bar food, carnival food, vegan organic.  How specific could you make your choice while still giving yourself options within the genre?
*******
And now, the blogs…
I Never Thought It Made Sense Anyway has a post this week about an off-handed comment that was made that affected her greatly.  It's impossible to write about this brief piece without revealing the words and the impact they had on her, but needless to say, it's a post that packs a punch.
Project Progeny has an incredibly moving post about how her body grieved after she stopped nursing.  The whole post is gorgeous, but this part in particular made me hold my breath: "And, even more absurdly, the moment begins to feel holy.  It's perfectly quiet, and I am alone.  My mind and spirit become quiet, and there is only the release of the pain and pressure of stagnant milk in my breasts.  It feels like my breast is crying tears of milk into the warm water."  You need to read this whole post about the body.
Bagmomma has a post that I love, a twist on the more common posts written when an infertile man or woman needs to go to a baby-focused life-cycle event.  The post is about her brother and SIL and she writes, "Thank you for your unwavering support and always holding out your hand to me. It has not been easy to be related to me.  I have far too much baggage, and most sane people would have given up on me by now."  It's a beautiful post that made me see the world in a different way.
Lastly, Life Family and the Pursuit of Family has a post about sex.  You know how you always think the grass is greener somewhere else?  Well this is the post that you need to read to remind yourself that everyone experiencing infertility has a parched, brown lawn and the difference is merely this parched, brown lawn over here or that parched, brown lawn over there.  It is a brutally honest post, one that took enormous guts to write.  I have a feeling many will understand when she writes: "Any other night that would have been fine. Any other night that might have dinged my pride a little, but nothing more. Last night, though, more than my pride was on the line. Last night, our future was on the line.  Last night, it was the equivalent of saying he didn't love me."
The roundup to the Roundup: rest in peace, Jeanne Claude.  The ChickieNob is grooving on ballet.  The Weekly What If.  And lots of great blog posts to read.