The 73rd Circle Time: The Show and Tell Weekly Thread
Show and Tell is wasted on elementary schoolers. Join several dozen bloggers weekly to show off an item, tell a story, and get the attention of the class. In other words, this is Show and Tell 2.0. Everyone is welcome to join, even if you have never posted before and just found out about Show and Tell for the first time today. So yank out a photo of the worst bridesmaid's dress you ever wore and tell us the story; show off the homemade soup you cooked last night; or tell us all about the scarf you made for your first knitting project. Details on how to participate are located at the bottom of this post.
Let's begin.
At the risk of being stunningly immodest, I would like to declare myself Queen of the Cake. I googled the term "sukkah cake" and "succah cake" and finding only these hits and none of them linking to a project quite like this, I would like to state here and for the record that I AM THE INVENTOR OF THE SUCCAH CAKE.  THE SUKKAH CAKE.  ME.  ME.  ME.
Um…
Well, I thought it was a cool idea.  Because mine doesn't just look like a sukkah; mine actually follows most of the rules of constructing a sukkah (except with edible items instead of wood and leaves) and a little playmobil character can go inside and shake his lulav.  The only other cakes I could find were either a solid rectangular cake that someone had decorated with icing to look like a sukkah (rather than making a hollow, enter-able, edible house) or the Jewish equivalent to a gingerbread house, with cookie-walls and royal icing creating a structure that co-ops Christian tradition as if Jews are not creative and kick-ass on our own.
Because we are.  And we don't need no stinkin' gingerbread because I have invented the sukkah cake.
And I'm sure that people will respond to this post and say, "My Aunt Rivke makes a cake just like that"–but the point is that your Aunt Rivke apparently doesn't post to the Internet and we all know in the world of peeing on your territory that having a permalink to the idea trumps Aunt Rivke's extended family knowing about her baking prowess.  So sucks to your Aunt Rivke.

I made this one for Josh's office with yellow cake and vanilla icing.  I am currently typing out instructions (after many engineering mishaps) on the actual construction of the sukkah cake because while it can be made with just about any flavour cake or icing, the actual work is in the carving of the cake, tweaks you need to make to the cookie roof, and the order of construction.  I learned the hard way that doing things in the wrong order results in cake collapse.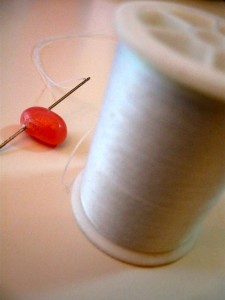 I strung up jelly beans with thread and a needle to serve as the fruit inside the sukkah.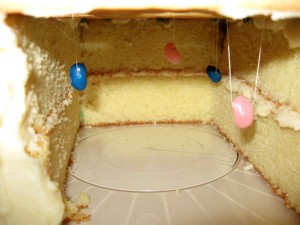 Hanging fruit…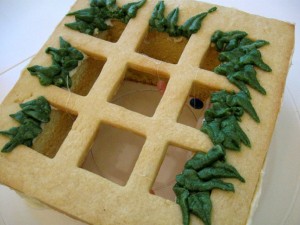 I made some leaves out of icing on the roof to cover up the excess cake needed to support the weight of the roof.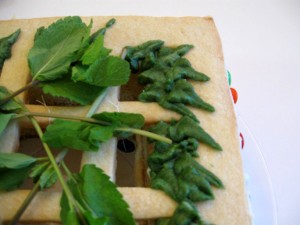 And then I covered the roof in mint leaves to serve as the s'chach.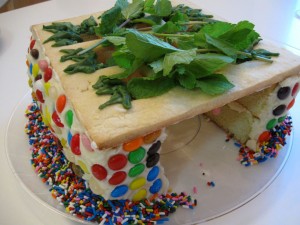 And let the twins go to town on the sides as you would a gingerbread house at Christmas.  Except that gingerbread doesn't taste very good and my cake rocks.
It is the art project that keeps giving, with the cake discarded in the carving of the structure capable of being turned into smaller and smaller sukkahs.  Next stop: figuring out how to ship said sukkah cake in one piece…

What are you showing today?
Click here or scroll down to the bottom of this post if this is your first time joining along (Important: link to the permalink for the post, not the main url for your blog and use your blog's name, not your name. Links not going to a Show and Tell post will be deleted). The list is open from now until late Friday night and a new one is posted every week.
Other People Standing at the Head of the Class:
Want to bring something to Show and Tell?
If you would like to join circle time and show something to the class, simply post each Wednesday night (or any time between Wednesday morning and Friday night), hopefully including a picture if possible, and telling us about your item. It can be anything–a photo from a trip, a picture of the dress you bought this week, a random image from an old yearbook showing a person you miss. It doesn't need to contain a picture if you can't get a picture–you can simply tell a story about a single item.

The list opens every Wednesday night and closes on Friday night

.
You must mention Show and Tell and include a link back to this post in your post so people can find the rest of the class. This spreads new readership around through the list.

This is now required

.
Label your post "Show and Tell" each week and then come back here and add the permalink for the post via the Mr. Linky feature (not your blog's main url–use the permalink for your specific Show and Tell post).
Oh, and then the point is that you click through all of your classmates and see what they are showing this week. And everyone loves a good "ooooh" and "aaaah" and to be queen (or king) of the playground for five minutes so leave them a comment if you can.
Did you post a link and now it's missing?

: I reserve the right to delete any links that are not leading to a Show and Tell post or are the blogging equivalent of a spitball.