Serving Up Cocktails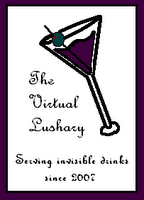 By the time the next Virtual Lushary rolls around, the Creme de la Creme list will have been started.  I know–it's a little crazy.  The chill has just hit the air here.  I'm wearing a jacket for the first time since last winter.  But if I don't start it early enough, I don't get it done.  And it's pretty much my favourite thing I do all year.  So I've started constructing the opening post and am working on the new icon for this year today.

This will be the fourth list, and that fact alone blows my mind a little.  In 2006, it was pretty small–77 posts.  In 2007, it had doubled to 160 posts.  In 2008, it grew again to 222 posts.  My goal this year is to break 300 posts.  I would love all 2000 blogs on the blogroll to have a post on the list, and I'm looking to you guys to help me nudge everyone to join along.  If you have a favourite post that has appeared on another person's blog, let them know.  Kick each other's asses, so I don't have to.  The list will open at the beginning of November, so I give you this heads up in case you want to start thinking about it so you can be high-up on the list or hitting publish on a particular post in your draft folder.
The place where I need the most help– and this section always gets the least amount of attention so I'll say it again and again over the next few weeks–is with blogs that have closed in 2009.  Meaning, they didn't go password protected or on a pause–the author has either removed the blog entirely and has stopped blogging or they have stated that they are done with the site, but are leaving it up.  So if you can think of blogs that fit this description (and they ended in 2009–not 2008 or earlier), send them my way or leave the name in the comment section below.
So can we raise a glass of a cream-based drink for the Creme de la Creme list?  Because we all have a personal favourite post.
As always, it has been about a month since we met, bitched, cried, comforted, and caught up each other on our cycles and lives. Pull up a seat and I'll pour you a drink. Let everyone know what is happening in your life. The good, the bad, the ugly. My only request is that if a story catches your eye, you follow it back to the person's blog and start reading their posts. Give some love, give some support, or laugh with someone until your drink comes out of your nose.
I have a ton of assvice in my back pocket and as a virtual bartender, I will give it to you unless you specifically tell me that this is simply a vent and you do not want to receive anything more than a hug.
So if you have been a lurker for a while (or if this is your first open bar as someone who found this space through IComLeavWe), sit down and tell us about yourself. Remember to provide a link or a way for people to continue reading your story (or if you don't have a blog–gasp!–you can always leave an email address if you're looking for advice or support. If not, people can leave messages for that person here in the comments section too). If you're a regular at the bar, I'll get out your engraved martini glass while you make yourself comfortable. And anyone new, welcome. I'm glad you found this virtual bar.
For those who have no clue what I'm talking about when I say that the bar is open, click here to catch up and then jump into the conversation back on this current post.
So have an imaginary cocktail and tell us what is up with your life.