160th Friday Blog Roundup
I went this morning to renew my passport.  It expired back in 2004 and the reason I didn't renew it immediately is that I wanted to do it in person because I had changed my last name with marriage…well…the whole story is a balagan-of-a-reason and the punchline is that when I got to the office this morning, I didn't need my marriage certificate at all.  There had been absolutely no reason to let it go on as long as I did.
Which brings us to two thoughts: I have not been out of the country in five years, with the exception of Canada (the last time I went, you could still go over the border without your passport).  I used to travel overseas at least once a year, sometimes multiple times a year.  We even put travel as a condition in our tenaim.  It's just strange to think that if I live to be 100, I spent 5% of my life not fulfilling something I love to do.  And I'm not sure I'll be traveling much past 70, so there's another 30% of my life.  And I didn't travel a lot as a child.  So what I'm saying is that I'm in prime travel years and I'm not traveling.
The other thing is how naked I feel without my passport.  This morning, I opened it to show the twins and went through some of the stamps.  I know I still have the photographs and the journals here, but that particular book contained a lot of memories and I loved standing in line at the airport, looking at my stamps and remember where I've been.
My first trip with Josh, when he asked me in a cafe if I thought I wanted to marry him one day.  Our spontaneous trip to Paris that we planned and executed in under 5 days.  A trip to Ireland where I came in from the rain and ate Linda McCartney vegetarian sausages and milky tea on the floor by the heater.  A month in Italy where we had a shower with a window in it.  Trying to learn Catalan in Spain.  A week in London where I convinced Josh to ask a shopkeeper on Portobello Road if he sold any bedknobs.  Running away to Israel to avoid an ex-boyfriend.  A trip to Canada after my first Follistim injection in a hotel in Buffalo, NY.  Taking pictures in a graveyard at midnight in Oslo.
When I get my new book, it will be blank.  The first clerk won't know when he stamps it that I've been to a bunch of places.  Isn't that a strange idea?  That you can become a clean slate in regards to travel every ten years.
*******
Weekly What If: What if in replacing your passport, they also wiped clean all of your travel memories?  What place would you love to see with new eyes (as in erase bad memories from a past trip or get to experience something all over again for the first time)?  Which trip would you be saddest to lose from your memory?
*******
Last night, we got into the house a few minutes past seven.  The twins washed up and I set up a candle on the counter.  They helped me light it and we went upstairs.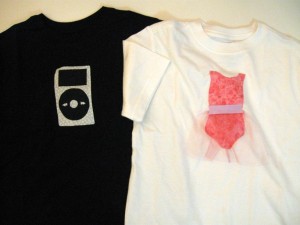 We kept losing power yesterday, including a few minutes after we lit the candle so it seemed extra fitting to have that established light.  An hour or so after the twins were in bed, I heard a strange popping noise in the kitchen.  It sounded like something plastic had fallen off the counter and onto the floor.
At first I couldn't locate the source of the sound, but then I saw this: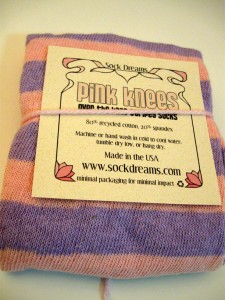 The heat from the candle had blown out part of the glass.  I had used these candle holders numerous times in the past, so I'm not sure why this happened last night.  Perhaps it was a sign.
*******
In happier news, I got two surprises in the mail last week.  The first came from Jen who has started her own etsy.  She made the Wolvog and ChickieNob t-shirts with their favourite things–iPods and ballet.  Jen also sends the twins her old blackberries and cell phones therefore they already loved her hardcore.  The shirts were just the icing on the cake: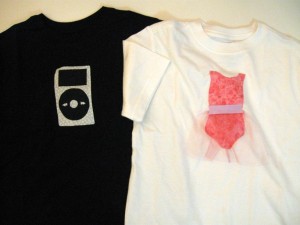 I'm hiring her to make a special onesie for me through the etsy.  Seriously high quality work–it's gorgeous.
The other thing that came was from Nancy (who I owe a nice comment on this post and still have it saved in my Reader, not because I can't think of something nice to say, but because I want to make it special).  She sent me my own pair of roller derby socks!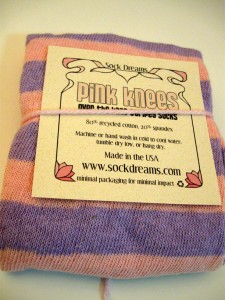 I am pairing them with a little black jumper and black platform heels.  I will take a picture once I've actually gotten myself dressed.  Which is a fancy way of saying, "showered."
*******
Newsy News:
A bunch of things came in quick succession so I thought it was worth repeating.
The Blogger Bingo list closes over the weekend.  The first clue will be up in that first section of the right sidebar on Monday.  This is your last chance to sign up.
The IComLeavWe list for October closes mid-week next week and commenting starts on Wednesday.  Heads up if you wanted to sign up.
Next book for book club is the Phantom Tollbooth.  We wanted to keep it easy with all the holiday craziness coming up.  Sign up if you want to participate.
I'm going to be doing a bunch of Q&A's at Fertility Authority next week.
If you live in Philadelphia, Cherry Hill, Southern New Jersey…er…that whole area, I'm going to be reading at the Borders in Marlton, NJ on October 23rd (next Friday).  I'd love to meet you if you live nearby!
*******
I also got to meet Christy last weekend: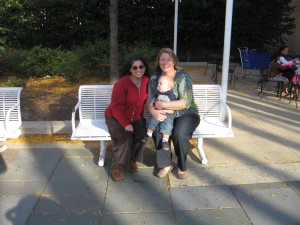 If you've ever thought to yourself, "I bet Christy rocks," you would be correct.  She is funny and sassy and has an incredibly delicious son.  I was so excited when I learned that she was going to be coming into town.
*******
And now, the blogs…
An Unwanted Path has a post about the word ineffectual.  Fertility treatments aren't working for her and she writes: "I hate wasting all that time, all that money, all that emotional energy, on something that just isn't working- and yet we keep doing it. It makes me feel like I'm delusional at times, and I ask myself why I bother."  It's a wistful post and I closed it, still thinking about the words for days after.
Still Passing Open Windows has a post about the economics of infertility.  When she inquires about the price of a camera, she can't help but put it in terms of a cycle cost, medication bills, donor gamete prices.  And the post drives home the fact that when you buy something at the store, you pay for the product and when you spend your money on treatments, you pay for the chance.
A Real Life has a post about a setback in terms of her job and what she learned from the experience.  She writes: "To put it mildly, my response was not appropriate for the situation I was facing."  I think what is most touching about this post is not just the honesty, but the enormous intelligence she brings to looking at her life.
Lastly, You Call Me a Bitch Like It's a Bad Thing has a post about how she should have been 12 weeks pregnant.  It is a simple, sad post about waiting rather than being in action.  I just thought it was well-written and moving.
The roundup to the Roundup: Bye-bye old passport.  Answer the Weekly What If.  Cool things came in the mail and in person.  Lots of projects coming to a close or starting up–depending on how you look at it.  And great blogs to read.